LIVING IN SIN WITH A SAFETY PIN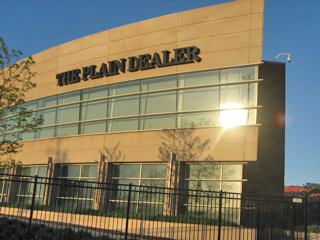 CLEVELAND, USA -- So I'm in Cleveland for the big SND 1A Quick Course. Some quick notes:
Steve Dorsey
gave a great talk about creating conceptual front page centerpieces ... and then drove back to Detroit to launch
the first Sunday Freep
in 17 years. Bold.
Tim Frank
gave an excellent presentation about creating effective promos. Feel free to
download the handout
.
The Plain Dealer
has one fancy building. FAN-CY.
Canadians are cool.
But the deficiencies in the American educational system were laid bare at the bar late Saturday night as Whitley and I could not name all the Canadian provinces, yet one of our Canadian friends could name all the U.S. states. In alphabetical order.
Actual quote from one of our Canadian friends:
"So are T-Ball and T-Shirt related?" (Answer: No.)